Operation Vetrepreneurship: Tracking Aspirations, Barriers, and New Ventures
In one of the largest efforts of its kind, this project stems from a yearlong study. The publications are designed for the veteran entrepreneur and the people who support them. Along with an extensive list of resources and recommendations is a series of in-depth interviews with veterans from across the country giving accounts of their motivations, challenges, and successes of being a veteran business owner.
Identify the primary reasons veterans engage in entrepreneurial activity
Identify challenges, obstacles, and successes associated with veteran entrepreneurship
Provide a better understanding of the changing trends in veteran entrepreneurship
Offer resources and tools that best support veteran entrepreneurs
Provide organizations serving veteran entrepreneurs with information on some of the main challenges veteran entrepreneurs face
Bridging the Gap: Insights into Veteran Entrepreneurial Ecosystems
This research brief highlights some of the challenges veteran entrepreneurs face, provides insights into veteran businesses, and offers an overview of elements within the veteran entrepreneurial ecosystem that aim to address these challenges. Through this brief, we hope to highlight efforts and opportunities to provide further support and advance veterans in their entrepreneurial ventures.
Bridging the Gap: Motivations, Challenges, and Successes
Veterans say access to capital, limited networks, along with difficulty developing mentorships are just some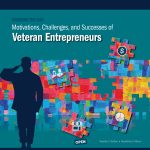 of the challenges they face when it comes to starting and/or owning a business. Bridging the Gap: Motivations, Challenges, and Successes of Veteran Entrepreneurs, a new report released by the IVMF, uncovers what it means to be a veteran entrepreneur. This report stems from a yearlong study, conducted by the Institute, in collaboration with Bunker Labs—in which veteran business owners from across the country, are asked in-depth questions about why they became entrepreneurs, the resources and supports they need to succeed, along with key challenges and barriers that could and do cause their businesses to end.