Together, the CoP raises the level of quality, transparency, and accountable service delivery while building upon providers' professional competencies to service clients and build greater organizational capacity to extend their reach. Overall, this collective impact approach has led to some significant impact:
Veterans and spouses are more likely to find faster, more simplified navigation across service providers; more personalized, supportive care coordination and referrals
Service providers network with others who share common interest and unique challenges serving the military connected population in their local community and across the country. They also gain access to subject matter experts in the veteran serving ecosystem and build stronger relationships through discussions, activities, and learning – building a professional network with knowledge, methods, stories, and toolkits.
Funders find the collective approach will achieve more local outcomes more efficiently with more impact than that of individual organizations.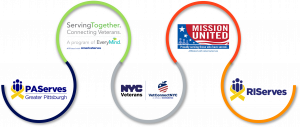 Mid-Atlantic Regional Community of Practice included participation from providers and coordination centers supporting the military connected population across Pittsburgh, NYC, the state of Rhode Island, South Hampton Roads, VA, and the national capital region.
Learn more about the trainings conducted.
---
With support from the Walmart Foundation, the IVMF is proud to work alongside the Texas Veterans Network – Combined Arms and AACOG, and TXServes-Rio Grande Valley to connect providers across the Lone Star State.