Veteran EDGE Success Stories
Vet100 Award Winner Alejandro Ramirez
---
"I am very persistent about telling other veterans about this program. Sometimes they even get annoyed by me," said Alejandro Ramirez, a graduate of IVMF's Entrepreneurship Bootcamp for Veterans (EBV) at Purdue University, Boots to Business, and Veteran EDGE.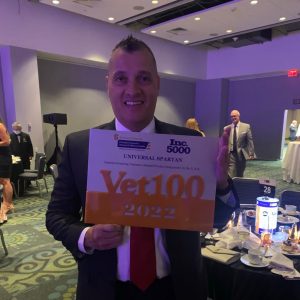 This year, Ramirez's business Universal Spartan (SDVOSB) was selected as one of The Top 100 Fastest-Growing Veteran Businesses in the United States. SDVOSB started with a mission to provide a responsive and complete contracting source as a solution to federal government corporations, and domestic and foreign installations in the defense industry. Besides tactical medical, electrical, and industrial equipment, the company also has a general service administration schedule, where agencies can go online and search for products to help with their initiatives.
"We are like a one-stop sourcing solution for the federal government," Ramirez said, "For the right product and the right reason."
Starting in 2013, SDVOSB has become a certified veteran-owned company, SBA awarded minority-owned company, Inc. 5000 company, and now a VET100 company. Talking about his success, Ramirez said the difficult part is transitioning military experiences into potential.
Serving in the U.S. Army for 22 years, Ramirez said he is used to working with a task, a purpose, and a mission. The process already empowers veterans with many skills, like leadership, discipline, selfless service, and risk-taking. Being in the military means veterans are accustomed to focusing on these traits, but now they need to transition them to the corporate world.
"That is why IVMF is so helpful," said Ramirez. "IVMF empowers you to transition all of these traits and values to make my business successful and help me in staying focused on my new mission, and to be able to be on the VET100 list."
At this year's Annual Vet100 Ceremony, Ramirez met other Vet100 company leaders, including fellow IVMF alum. While greeting and networking with other veteran business owners, presenters, government agency representatives, and others, Ramirez shared how important his experience was with the IVMF and why everyone should be supporting initiatives like those that the IVMF offers.
"I have learned persistence in the military, and when I talk about persistence, I am very persistent about telling other veterans about this program," Ramirez said.
Ramirez was delighted to share the spotlight with so many other veterans at the Veteran Entrepreneur Success Summit, where members of this year's VET100 list were honored. He recalled first going through IVMF programming when his company was in its early developmental stages and hoping to one day join the list. Today, Ramirez not only hopes to stay on the list, but hopes that through his networks and persistence he can help encourage others to start their own endeavors, attend IVMF programming, and join him on the VET100 list in the years to come.
"When some of these veterans attend the program, they finally say, OK, Ramirez, I'm attending the program, they attend it, and then they tell me – why I didn't listen to you the first time?" For Ramirez, that is the reward for his persistence. "I want them to go to that program because that's what helped me out."
Pursuing Passion Through Pain
---
Chef Tiffany Moore is strong and resilient. She has needed to be – survival hasn't come easy.
Moore always wanted to join the military. She earned the distinction of Ms. JROTC in high school and planned to join the service after college. But when her college plans became derailed, an Army recruiter was at her doorstep three weeks after high school graduation and Moore left for basic training a couple months later on September 5, 2001.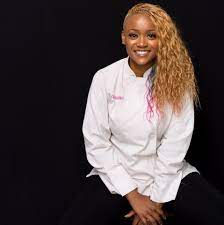 Initially wanting to be a cook in the service, Moore left basic training as an ammunition specialist. On deployment in Kuwait in 2004, Moore suffered a freak neck injury while moving a pallet. Over a period of a few years, the injury progressed from minor nuisance to pain and numbness in her hands. Doctors assumed carpal tunnel syndrome due to the increased time Moore was spending performing admin duties at a desk.
In 2011, in the middle of the night, Moore awoke to find that she was paralyzed from the neck down. "My mind was saying move, but my legs were not moving," Moore recalled. The paralysis was temporary, lasting an hour before going away, but it would return a few times a year.
In October 2012, during Moore's medical board process, the paralysis happened while on duty for the first time. She was put on emergency bed rest because her C4 and C5 vertabrae were touching her spinal cord and her spinal canal was compressed and blocking the flow of spinal fluid. Doctors informed her that something as simple as a sneeze or laugh could put her into permanent paralysis. Despite the grim outlook, Moore was finally feeling validated with her injuries after suffering with excruciating pain, numbness, and recurring paralysis for nearly eight years.
Surgery provided Moore with relief for about six weeks until the pain returned due to permanent nerve damage. Two years later, another surgery was performed, this time on her C5 and C6 vertebrae after numbness, weakness, and pain persisted on her right side.
Moore did not lose her passion for cooking throughout her trials but was losing hope that she would be able to pursue it as a career. She was repeatedly denied the opportunity to go to culinary school by the VA due to her medical issues.
Determined, Moore started a cupcake company in 2009 and had a brick-and-mortar location in the Atlanta area. Two years later, her brother passed away from sickle cell disease. Moore closed her business as she grieved.
Having felt a lost sense of purpose, depression took its toll on Moore for years. But in 2016, she picked up and traveled the world to rediscover what brought her joy and her purpose became clear.
Moore started catering in 2017, and soon thereafter, an advertisement for Escoffier Culinary School popped up on Moore's Instagram feed. This was the opportunity she had been searching for!
She graduated with honors from Escoffier in 2019 and was asked to speak at her graduation.
"When you're following your purpose and living in your purpose, everything comes into alignment," said Moore.
Today, Moore, a 2020 Veteran EDGE graduate, has a thriving catering business in the Atlanta area and lives by the philosophy "I am your connection from farm to table…your palate is safe in my kitchen…let me nourish you…feeding you life and electrifying your well-being."
In addition, she has caught the attention of numerous producers of cooking-related television shows, including representatives from The Food Network and FOX. In fact, you can see her on the upcoming high-stakes cooking competition series "Rat in the Kitchen," premiering Thursday, March 31, on TBS at 9:00 p.m.
YÜJ Granola: A Vegan and Gluten-Free Snack Company with a Purpose
---
Massiel Villanueva is the CEO and Founder of YÜJ Granola – a granola company that is vegan, gluten-free. Massiel Villanueva and her brother Fernando glycemic, and soy-free. They offer healthy but delicious alternatives to unhealthy snacks in forms of bars, bites, and cereal granola. Additionally, Massiel says they call it "enlightened granola" because proceeds from their sales go back to select nonprofits. She proudly runs the business with her brother, Fernando.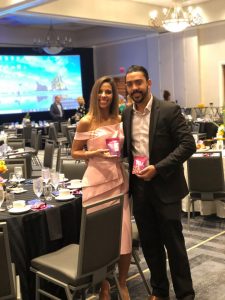 Being a military spouse, Massiel had been shifting careers and decided to become a yoga instructor. Because of this, she had to adjust her diet away from gluten, soy, sugars, caffeine, alcohol, or animal products.
"Once I started the diet, there was a noticeable gap in healthy foods with those specifications … I decided to create a product that matched my specific needs." That is when YÜJ Granola was born, out of necessity to find a healthy but delicious snack. "It's a product line that has everything a busy family needs to keep their kids healthy," she added.
Each year, between September 15 to October 15 Hispanic Heritage is celebrated. Massiel grew up in the Dominican Republic and moved to the U.S. to attend college. She said it was a challenge to learn a new language and culture and realized it would take a lot of work to adapt. "After looking back on my introductory years to American culture, I am glad some of those challenges were there, as it created resiliency and the ability to adapt," she said. "I am proud of where I came from because it taught me the value of community and service to others."
Now, Massiel lives in Central Florida and is grateful for the abundance of support within the Hispanic community. In recognition of Hispanic Heritage Month, YÜJ Granola has had great experiences collaborating with Hispanic and minority business owners. The company has also participated in business-building events and community projects that serve the needs in the community. Recently, they were the winners of a contest led by the Hispanic Chamber of Commerce of Tampa Bay. You can learn about their community work and news here: https://yujgranola.com/news/.
Many have doubts about starting a business venture, but Massiel encourages any military spouse to "just do it" as there are a lot of resources and tools available to help. "As a military spouse, you learn how to adapt and become resilient to life challenges – especially while raising three beautiful children. Apply that type of resiliency and ability to adapt when first starting a company," she said.
Massiel recommends IVMF to any veteran or military spouse considering pursuing entrepreneurship. "IVMF helped us in many ways — exposure, community outreach, support, and more," she said. "We were featured at their last Veteran EDGE event, and they gave us the opportunity to expand our brand to different demographics by offering resources for expansion."
Army Veterans Come Together Over Their Passion for BBQ
---
James Lee, III served 12 years in the U.S. Army, working at various duty stations both stateside and overseas. In 1999, while at Fort Carson, Colorado, James started enhancing his father's BBQ sauce recipe. In the following years, he continued to perfect the quality of the sauce and started product development and focus group testing during different assignments while on active duty.
James made his gourmet BBQ sauce available at various social events and created sampling opportunities during domestic and international travel, including countries such as Korea, Germany, Hungary, and more. This sampling strategy resulted in invaluable consumer insights across numerous demographic areas and increased demand. James knows his military career is a critical factor in his success as the founder of J. Lee's Gourmet BBQ Sauce.
Charles "Chuck" Holden retired from U.S. Army in 2001 as a Lieutenant Colonel, serving 26 years in both Asian and European theaters of operations. During an assignment as Professor of Military Science at Southern University in 1983, he obtained his master's degree in mass communications. In his post-military career, Chuck worked for General Dynamics for 13 years, retiring in 2014. Following his second career retirement, Chuck took a few years to reflect on his experiences and to figure out how best to give back to help others.
Chuck's journey with J. Lee's Gourmet BBQ Sauce began in 2018 when he met James Lee III during a visit to Biloxi, MS and tried his BBQ sauce at a social gathering. Following a long conversation, it was evident the soldiers shared the same outlook on life, passion for cooking and good food, and doing good for others. Chuck immediately realized his educational background in business and accounting could be an asset to the company. James asked Chuck to join the Sauce Team as President of Operations, and Chuck agreed.
Here's just a taste of the incredible honors and features J. Lee's Gourmet BBQ Sauce has received:
Four-time world champion – 2016 through 2019
Ranked #1 in the world out of 269 sauces by (BSN) BBQ Superstars Network (bbqsuperstars.com) Pitmasters as the Undisputed Champion
Top 100 BBQ Sauces Worldwide
Winner of the Food & Drink Category for Lux Life Magazine for 2019 and 2020
Featured on numerous television shows and magazines, including the Super Bowl, Academy Awards pre-receptions, and many more.
James Lee's military photo in uniform is the first to have ever been placed on any food or beverage product in history.
Both James and Chuck have attended multiple IVMF Veteran EDGE Conferences and Chuck is a graduate of IVMF's R.I.S.E. program.
If they could offer any advice to prospective military-connected entrepreneurs, it would be this: "As a veteran, you have the will to persevere and go beyond the ordinary. Believe in yourself and don't be afraid to step out on the unknown. Prepare as you have in your military career, and you will be well-armed to take on civilian business challenges."
Navy veteran finds new purpose in an unlikely venture: Socks
---
Retired Navy Lt. Commander Anthony Cosby knows all about chasing purpose. He just never expected to find it in socks.
For Cosby, joining the Navy was a way to see the world. "It took me to Charleston and eventually to an opportunity to earn my officer's commission," he said. After leaving the Naval Academy, Cosby was stationed in Texas as a recruiter. It was a unique challenge for the self-described introvert. He became one of the top Navy recruiters in the nation.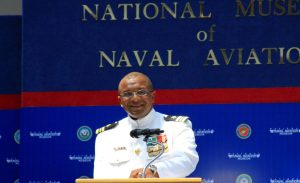 It wasn't all good for Cosby, though. A swimming accident caused him to break his neck in eight places. Miraculously, he wasn't paralyzed and survived. "I was laid up in bed for five months to heal up. It was a big time of reflection for me. It was when I knew there was a bigger picture and bigger calling than what I was doing outside of the Navy," he said.
Cosby retired from the Navy after 21 years of service in 2012, not long after getting married and having a little girl.
But with the good came some surprising challenges. Cosby said his transition was much harder than he had anticipated or was prepared for. Eventually, he was led into roles mentoring student veterans which he enjoyed, and thrived.
After attending his first Veteran EDGE event and spending five minutes with Matthew Griffin, who founded Combat Flip Flops while deployed to Afghanistan, Cosby was motivated to make a change and do something new. "Entrepreneurship is so rewarding and just really fills your heart. I think that's why I fell in love with it. It has so much that can be offered," he shared.
While maintaining his role at Syracuse University within the Institute for Veterans and Military Families, Cosby eventually co-founded STZY. "It doesn't stand for anything but really means you have elegance with your style and with your fitness," he said with a smile. The company was focused on one product: socks.
Brian Krusz: Entrepreneurial Journey
---
Brian Krusz didn't have big dreams of becoming an entrepreneur. After serving in the Marine Corps for eight years, he became an executive banking recruiter and was laid off during the 2008 economic crisis. On the drive home from his last day at that job, he told himself that, moving forward, he would control his own destiny. He has been an entrepreneur ever since.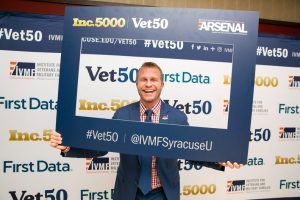 In 2013, Krusz founded Sgt. Clean Car Wash, an express exterior car wash chain in Northeast Ohio. For the past three years, the company has been listed on the Vet100, a product of an IVMF partnership with Inc. recognizing the 100 fastest-growing veteran-owned and -operated businesses in the country.
He has attended multiple Veteran EDGE conferences and has big plans for 2021 – growing his number of Sgt. Clean's Car Wash locations by 50%!
Learn more about Brian's entrepreneurial journey here: