To date, more than 132,000 transitioning service members, veterans and military family members, were served by IVMF programs. In 2007, when we launched our very first program – before the IVMF was even founded – that number was 17.
Those numbers matter because they speak to our mission, and the commitment of our people, our funders, our partners, and our world-class advisory board to take action to advance and positively impact the post-service lives of this nation's veterans and their families.

Roughly

200,000

service members and their families are transitioning from the military each year making the need to focus on post-service lives even more critical
Almost half of transitioned service members said getting socialized to civilian culture was a top challenge after leaving service
Nearly

75%

of transitioned service members indicated employment-related considerations are central to decisions concerning transition

55%

of service members do not want to pursue careers similar to their military careers
Nearly

60%

of veterans say access to care and navigating services are among their top challenges.
Nearly

40

major external funders, including founding partner JPMorgan Chase & Co., as well as Schultz Family Foundation, The Walmart Foundation, Google, Fiserv, USAA, Prudential, Accenture
Over 100 professional staff across the country
Operating in

46

states, 2 U.S. territories and

9

countries
Key partnerships: Dod, VA, Veterans Affairs Center for Innovation, the SBA, and many state and local partners
IVMF national programs empower transitioning service members and veterans to enhance their post-service lives–and the lives of their families–by delivering no-cost career, vocational and entrepreneurship training. In addition, the IVMF's work is fundamentally changing the way in which communities collaborate to match the needs of veterans and their families to available resources, services, and care. Through applied research, measurement, evaluation and data solutions, the research and evaluation team informs IVMF programs, delivers insights, guides future direction, and empowers action across the veteran and military family community. Like all of us, the IVMF has a compelling obligation to assist veterans and their families realize their full potential as individuals and members of their communities.
RESEARCH, MEASUREMENT, & EVALUATION
122 media and academic citations in 2019 including international mentions
Over 450 reports, publications, briefts, and documents since 2012
$3.5 awarded in sponsorship to date
Informing public policy with 4 hearings and 6 roundtable sessions on the Hill in 2019
79% of EBV graduates have started or continued to grow their own business.
92% of those are still in business today
EBV Graduate businesses have average annual revenue of $160M
10 consortium schools have graudated over 1,800 veterans and family members since inception in 2007
EBV-Accelerate program graduates collectively reported $18+ million in revenue
EBV Participants employ over 900 veterans and military family members
Over 32,000 veterans, service members and their families reached.
Over 40,000 service requests filled by nearly 1,000 providers.
96% of referrals were appropriately matched to a provider
Over 38,000 veterans and spouses impacted with career prep training.
Nearly 1,000 employer partners.
Over 1,500 learners a month.
Over 50 top career fields and certifications.
Over 3,000 V-WISE graduates to date.
V-WISE graduates report an annual average revenue of $78M
65% of V-WISE graduates have started or grown their businesses
93% of those are still in operation today
Introduction to Entrepreneurship two-day courses are held at over

35 military installations

(CONUS/OCONUS) in

eight countries

.
Over 70,000 Boots to Business participants
OCONUS workshops delivered in 2018
2,000 individual requests served through our Post-Program Support
Over 12 VetNet webinars offering post program support, guidance and insight
15,000 resources in our database tagged by geography and type of resource
Participated in 50+ events in 16 states and one international event, reaching 21,100+ participants including 1500+ veteran-owned business with 22 corporate CVOB partners.
Cody Brack, 2018 Onward to Opportunity Graduate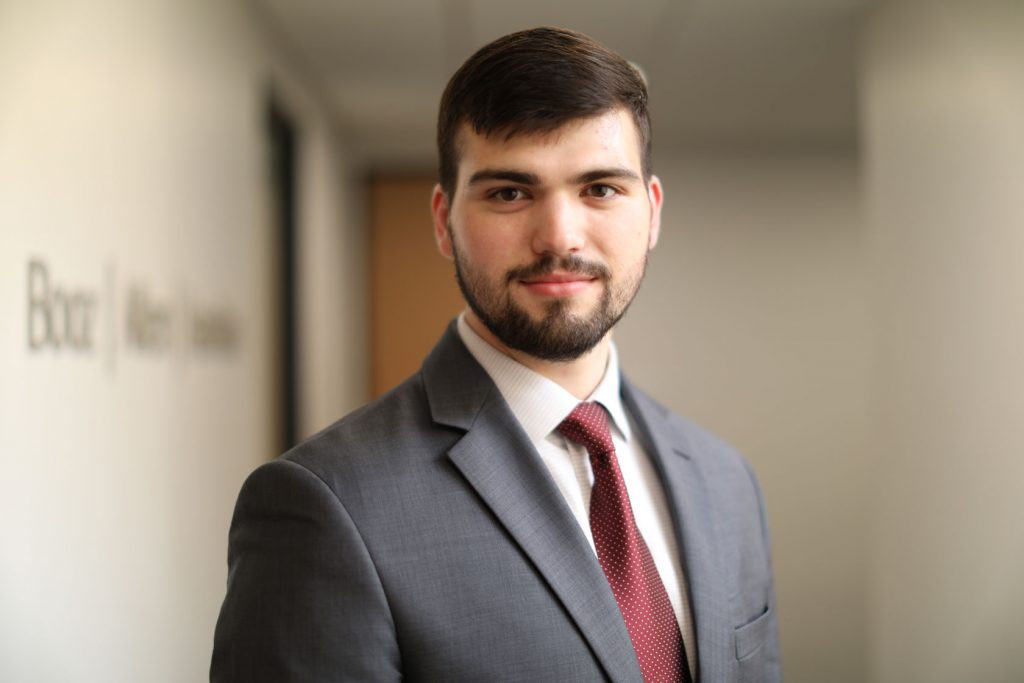 Cody Brack is a former Marine Corps Sergeant, now working as a Cyber Network Operator after completion of his Certified Information Security Systems Professional (CISSP) training. Cody is one of hundreds of Onward to Opportunity participants who have taken advantage of one of our cyber learning pathways, allowing him to transition out of the military into a civilian job that maximizes his military-conferred skills and provides a competitive salary.
"Onward to Opportunity gives you the knowledge and skills to find a well-fitting job that pays what you deserve."
– Cody Brack