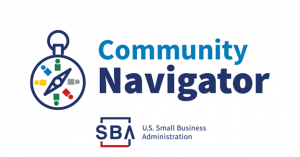 Did you know that 44% of veteran entrepreneurs identified navigating business resources within their community as difficult? To combat this issue, Syracuse University's D'Aniello Institute for Veterans and Military Families is one of 8 tier-1 Hubs awarded the Community Navigator Pilot Program (CNPP) grant from the U.S Small Business Administration (SBA) dedicated to break down the difficult barrier of resource navigation within the military entrepreneurship community. An initiative of the Biden-Harris administration's American Rescue Plan, the SBA Community Navigator Pilot Program is designed to reduce barriers that underrepresented and underserved entrepreneurs often face and improve access to programs and resources they need to recover, grow, or start businesses.
The IVMF has deployed 15 Spokes in 6 different regions across the U.S.: New York, Florida, Pennsylvania, West Virginia, DC Metro Area and Texas. These spokes support local veterans and military spouses with entrepreneurship education/training, technical assistance, loan preparation, capital readiness, and opportunities for corporate and federal contracting and networking. The support for this community is critical, especially as military-connected business owners face a range of barriers in attempting to launch and sustain small businesses such as a lack of access to capital, difficulty navigating resources and certification processes, and a lack of assistance from medical and disability service providers.
"We are thrilled to be a part of the SBA's Community Navigator Pilot Program (CNPP)," said Kayla Eberhardt, Program Manager for CNPP, "as it speaks to the opportunity of connecting all of the great resources out there, specifically in the veteran space. This program proves that we can serve the military entrepreneur community better together!"
IVMF's Spoke services include access to free services such as 1:1 business advising, legal services, accounting services, business insurance, business training, tax services, grant and loan services and so much more! These spoke organizations are designed to meet entrepreneurs wherever they are on their journey; ideation, start-up, growth. The IVMf has also implemented a referral process that allows military entrepreneurs to access as many resources as possible within our network in the quickest amount of time. The mission is to do better, together, faster and break down those barriers military entrepreneurs face in their business.