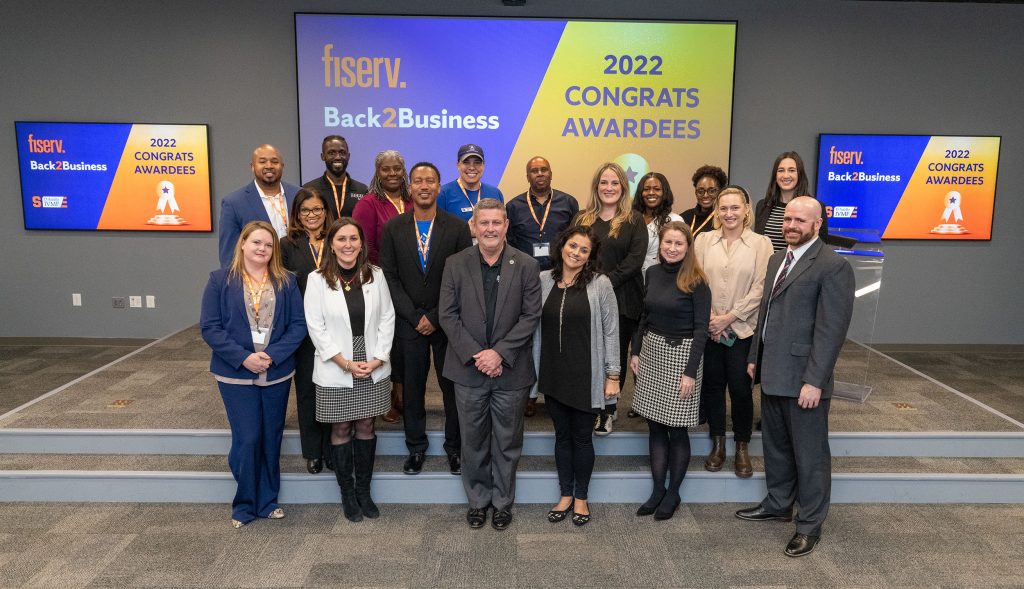 Ten Georgia-based small businesses, all owned by military-connected entrepreneurs, were each awarded a $10,000 grant as finalists in the Fiserv Back2Business $100k Competition at the Russell Innovation Center for Entrepreneurs. The competition, hosted in partnership with the D'Aniello Institute for Veterans and Military Families (IVMF) at Syracuse University, was specifically for active-duty service members, members of the National Guard or reserves, military veterans with an honorable discharge, and military-connected spouses or life-partners residing in the state of Georgia.
The recipients had been previously informed they were selected as finalists for the competition and invited to Atlanta for a day of free entrepreneurial training offered by the D'Aniello Institute, a national leader in entrepreneurial and career training programs for the servicemembers, veterans, and their spouses. To date, the IVMF has empowered more than 170,000 military-connected people through their transition out of the military through the Onward to Opportunity career training program, and specialty training programs to support military-connected business owners through all stages of entrepreneurship from the ideation, startup, and growth stages as well as providing valuable opportunities for successful business owners to create valuable strategic partnerships.
The Georgia-based participants and grant recipients included:
Clean Sleep Technology in Fayetteville
Dope Coffee Company in Decatur
Edge Tutoring in Snellville
Global Business Development Strategist in Ludowici
VendorCall in Lawrenceville
LAB Innovative Business Network in Kennesaw
SB Management & Marketing in Stockbridge
Sweet Southern Creations in Cornelia
The Utopia Group, Inc. in Alpharetta
VETS2INDUSTRY Foundation, Inc. in Dallas
All ten of the finalists were told they would have an opportunity to deliver a business pitch to a panel of judges about what the funding would do for their business, they were under the impression that Fiserv would ultimately make the choice to award the grant, or not. What the 10 finalists didn't realize at the time they were pitching was the decision had already made for each of them to walk away with a $10,000 grant thanks to the $100,000 commitment from Fiserv.
"Equipped with a unique skillset and critical leadership traits, veterans bring tremendous value to the small business landscape, and it is our honor to provide Fiserv Back2Business grants to these business owners," said Vivian Greentree, Head of Global Corporate Citizenship at Fiserv and a Navy veteran. "Supporting the success of veteran and military spouse-owned businesses is an important part of the Fiserv commitment to the military community, and we look forward to watching these businesses continue to grow."
Fiserv, Inc., a leading global provider of payments and financial services technology solutions, created the Back2Business program as part of its Forward Together Plan focused on diversity and inclusion. The program is designed to help strengthen minority-owned small businesses in targeted communities through financial support, business expertise, leading technology solutions, strategic partnerships, and community engagement.
Funding like this is particularly important during the current economic hardships for small business owners, especially those struggling through the startup stage. Like their civilian counterparts, many veterans and military-spouses running businesses find themselves contending with rising costs, shipping delays, labor shortages, and facing rising interest rates when seeking out new capital for growth or expansion.
One of the $10k recipients, Amanda Doughty, a U.S. Coast Guard veteran and owner of Sweet Southern Creations, mentioned current economic conditions as a primary issue for her veteran-owned bakery. In her application for the competition, she mentioned she's dealing with a nearly 100% increase in the cost of the ingredients she uses.
Doughty cited the cost of butter, her most-used ingredient, having gone up from fifty cents a stick last year to $1 a stick this year as an example. On top of providing necessary funding for equipment upgrades and badly-needed building repairs, the $10,000 grant will provide peace of mind and breathing room over the upcoming holidays.
"Data from the IVMF's National Survey of Military-Affiliated Entrepreneurs revealed that among the top five barriers military-connected entrepreneurs face, four are related to finances," said Barbara Carson, Managing Director of Programs for the IVMF. "The number one barrier for almost half of the 1,450 respondents was lack of access to capital. Funding from grants like this, offered specifically for veteran entrepreneurs, can be the difference between surviving and thriving."
Michael Loyd, CEO and Co-founder of Dope Coffee in Decatur, Georgia, which was also granted $10k from Fiserv, said that not only will the funding allow him to focus on growing his business, but will give him the ability to expand upon his community outreach efforts.
"Coffee is a conduit for community engagement. That's part of my brand for Dope Coffee," said Loyd, who served as a commissioned officer and combat engineer in the U.S. Marine Corps. "The point is to build a better society, you and I can come from different walks of life, but coffee is a vehicle for us to share a conversation."
The $10,000 grant from Fiserv will let Loyd focus on increasing sales to get his product on more local small-business shelves. In addition, Loyd runs a program called Free Coffee, where he introduces underserved communities in the area to specialty coffee by setting up stands and serving his coffee to anyone who wants a cup. He said that $1,000 of the money from Fiserv will give him the ability to serve approximately 4,000 free cups of coffee, in addition to the 2,000 he's already given away with a goal of giving out 100,000 free cups of coffee over the next year.