SyracuseServes is here to assist military-connected families
---
SyracuseServes is located in the National Veterans Resource Center (NVRC) at the Daniel and Gayle D'Aniello Building, as a program of the the D'Aniello Institute for Veteran and Military Families (IVMF).   The coordinated care network ensures our military-connected community can easily and successfully navigate to the care, resources, and services they need. Having access to and navigating care and services help veterans and their families sustain healthy, productive, and economically stables lives following separation from the armed forces.
SyracuseServes' operating hours are Monday – Friday, 8:30 am – 5:00 pm.
Closed Saturday and Sunday.
Who We Serve:
We aim to support all individuals who have worn the uniforms of our military – regardless of age, era, branch, or discharge status. SyracuseServes will strive to find an appropriate local resource for veterans, service members and military-connected families.
Meet The Team: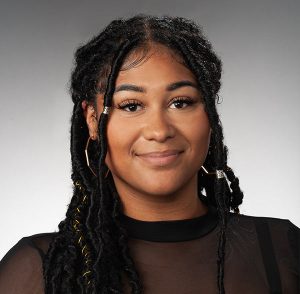 Ke'Airah Parker is the SyracuseServes Program Manager for the Institute for Veterans and Military Families (IVMF) at Syracuse University. She is responsible for fostering and maintaining relationships with community agencies that provide services to veterans and their families and working with veterans to identify their needs to offer sustainable resources and referrals.
Ke'Airah has strong family ties to the military, being one of the many reasons she joined the team. "Both of my parents served in the Navy and my brother served in the Marines, so it makes coordinating services a little more personal for me. Whenever I am meeting or assisting a client, I always imagine they could have been my family member trying to get this help somewhere. For me, joining the IVMF is about doing my part to make sure our servicemen and women are fully integrated into society in a healthy way that allows them to lead a happy, sustainable life. This includes ensuring they are offered every resource available to them." – Ke'Airah Parker