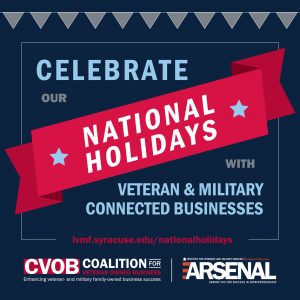 Every month the Institute for Veterans and Military Families likes to highlight the wide variety of veteran-owned businesses by recommending a few businesses on their respective national holiday. Celebrate a fun holiday and support a local business that also is veteran-owned all at once! Browse through the below list and don't forget to come back every month to see the next list!
October National Days List
October 4
October 10
 October 14
October 27
 October 29
October 31
Let's celebrate together! Check back for next month's list! To shop with veteran and military spouse- owned businesses check IVMF's Buy Veteran and Military Spouse Shopping Guide.
*Interested in joining the CVOB and being placed on one of our National Holiday lists? Learn more about joining HERE*