Entrepreneurship Bootcamp for Veterans (EBV)
Veteran Winemaker Distills Some Truths About Entrepreneurship
---
When Corey Christman retired from the Air Force in 2012, he had plenty of military experience as a special agent. He also had a few years of experience as an amateur wine maker. Before parlaying his passion into a new profession, he first leveraged his MBA and military experience as a corporate consultant. A few steps into a PhD program in organizational development and professional leadership moved Christman to recalibrate. In 2014 he decided to turn his winemaking hobby into a full-blown business, and he launched Bravery Wines in 2020.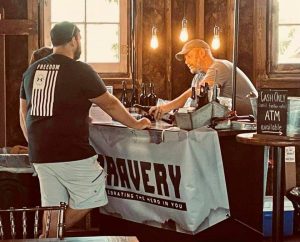 At first blush, six years may seem like a long time to get a new business up and running. Years into his entrepreneurial journey, people would often ask him, "What's taking you so long?" He'd brush it off and say he's just a country boy trying to make it, or maybe he doesn't learn as fast as other people. Really what he was doing was a whole lot of entrepreneurial learning to prepare his business for success.
"There have been a lot of well-intentioned people, and while they mean well, I think they worried that maybe I was investing too much time and effort," he said. "But when I went into it, I didn't want to be another wine brand. I wanted to create something special and meaningful that people enjoy."
Christman completed enology and commercial winemaking operations courses at Washington State University. He flew from the East Coast out to Napa Valley to learn from another veteran winemaker who answered all of his thoughtfully prepared questions. He approached industry experts in his home region, the Finger Lakes in upstate New York to learn even more. There, he found mentors John and Ann Martini, owners of Anthony Road Wine Company, and head winemaker Peter Becraft. He took on an internship to learn the ins and outs of the business, literally. One of the prerequisites of his tenure was that he could fit inside the wine tanks, as a big part of winemaking is keeping them scrubbed clean. He also completed IVMF's Entrepreneurship Bootcamp for Veterans (EBV), which was a new program at the time.
"I was all-in with EBV when I found out it was a quick-start guide," said Christman. "The staff, the dedication, the professionalism, they all take the operational points you'd learn in business school, tell you to focus on the bite-sized chunks, then equip you with professionals like marketers, attorneys, to help you get going. I could take what I'd learned in wine school, and what I learned in books to make the best wine possible."
EBV Played a Crucial Role for Alumni Kelo Makelele
---
Kelo Makelele is the Director of Operations at RedTrace Technologies, a cyber, information technology, and management consulting firm whose focus is to deliver solutions to the intelligence community. He has been an entrepreneur for over 8 years and started RedTrace Technologies in 2017. Kelo has participated in several IVMF programs including, EBV '17, IGNITE '19, and Veteran EDGE '20, '21. He believes many of his entrepreneurial skills were sharpened by those programs and is grateful for his introduction to the IVMF through EBV.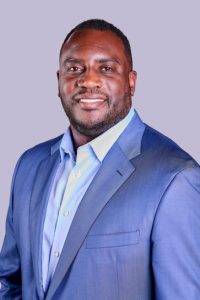 "EBV provided an invaluable knowledge base when I was starting my company," Kelo shared. "It helped closed the gaps of knowledge"
Kelo recently attended the EBV reunion, which was hosted for alumni at the National Veterans Resource Center on Syracuse University's Campus. He was excited to meet other veterans and reconnect with friends from past EBV events to see how their companies were doing. Kelo was a part of a group of alumni who donated back to the reunion. He said, "I am giving back financially because my company is at a point where I can." He acknowledged that without the support of funders when he went to conferences it would have been more challenging to get his business to where it is today.
Kelo encouraged others to do the same when they could and noted, "EBV played a crucial role in growing our company, and I want to ensure that other veterans can do the same."
Daniel Trtanj Finds his Light through EBV
---
The impact that IVMF opportunities have presented to my family and me have been nothing short of a blessing. Like many other veterans, I felt disconnected and lost after transitioning out of the military. Though I was successful in college, I still dealt with my demons behind the scenes.
I was lacking purpose in my professional life and knew entrepreneurship was always a goal of mine, but in what field? I attended my first IVMF program in 2017 as an EBV student. I had an idea, but meeting other like-minded veterans and sharing my story eventually guided me into the business I operate today, At Eaze Extracts, a Hemp CBD brand.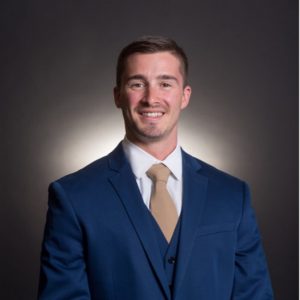 As a young man, I grew up the only kid in my general social circle with divorced parents, poor parents, and the odds stacked against me with substance abusers around every corner. I was fortunate to have two parents who always kept taking steps forward and who through all the toxicity around us, showed me and exposed me to glimpses of light. I learned to volunteer and be willing to explore, and if not for those early life lessons building the foundation of my thought process, I may not be here today, but instead, I am and will continue to grow and support others.
Our business has steadily grown since, but the purpose and impact that we have made with so many customers that is what is the most rewarding part of this journey. I don't believe I could have done half of what I have done without the IVMF. Especially after I was selected to participate in the D'Aniello Foundation Acceleration Challenge, where I received an award from the IVMF to support my business. Now, I have a much clearer path to growth and the support and resources necessary. I look forward to the person I will be five years from now, meeting and sharing my story with new EBV and IVMF participants, and inspiring and helping others who will be where I am today.
IVMF EBV Alum T Nguyen '21 Wins Shemin Grant for Tech Training
---
The Shemin Grant was awarded to Thong "T" Nguyen, EBV SU 2021 alum and owner of Leyden Solutions, Inc., based in North Carolina. Nguyen was awarded $4,000 to help his company become a Certified Training Partner to deliver cryptocurrency technology and training to clients. The Shemin Micro-Grant Fund is an annual program where Entrepreneurship Bootcamp for Veterans (EBV) SU Alumni can submit a proposal to have a specific business need funded to support the early stages of new venture creation. This initiative was made possible by an endowment from the family of Syracuse University alum and military veteran, Emanuel "Manny" Shemin.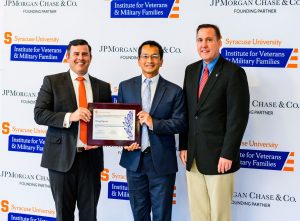 "With new technology and new ways that the adversary can look at things, we have to be up to speed with the emerging technologies out there," said Nguyen. "With industry and with government, threats are constantly evolving, and we have to stay abreast of the technology, training, and tools we can use to mitigate the different challenges.
Nguyen's military experience in counterintelligence enables him to understand the importance of analysis in countering threat finance and helping to find illicit actors in this emerging sector set the government and industry are facing. The Shemin Grant funding will allow Nguyen's team to train for a multi-phased certification program that will also allow them to present the course to others. He anticipates it will take approximately six months to complete the training.
"I am humbled to be awarded the Shemin Grant," he said. "It will assist us as a business and help the national security infrastructure build capacity and increase capabilities in a much-needed area of cryptocurrency and blockchain analysis."
Nguyen credits his experience with IVMF's EBV program with making a tremendously positive impact overall.
"The more people who know about it, the better it is for everybody. It's the best entrepreneurship program I have had the privilege of attending," he said. "The IVMF brings in an amazing bunch of speakers, and there's a cadre there that cares so much about veterans. I am so grateful for that program and the amazing people who work there."
Noah's Ark Child Care Academy
---
Lieutenant Colonel Otis Thomas has over 17 years of service as a commissioned officer in the U.S. Army and still serves today as Deputy Command Chaplain with the U.S. Army Reserve.
In 2015, he was encouraged by his mentor to open a quality child care facility. Otis opened Noah's Ark Child Care Academy in Euclid, Ohio with three children and two teachers. Within several months, enrollment soared to 48 children with seven teachers.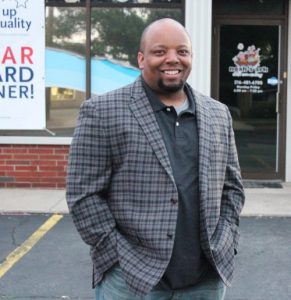 When he first discovered IVMF entrepreneurship programs, Noah's Ark Child Care Academy was already open and Otis also owned several rental properties, in addition to working a traditional 9-5.
"I knew business," said Otis. "But more so from the practical, hands-on side. I never received formal training on how to start a business."
He first participated in Entrepreneurship Bootcamp for Veterans (EBV) with EBV consortium partner, University of Missouri. The following year, Otis attended the first cohort of EBV-Accelerate, designed to prepare business owners for sustainable growth. In the years since EBV-Accelerate, he has attended the Veteran EDGE Conference three times, saying that he "loves the Veteran EDGE Conference because it's a great time to catch up with familiar faces, network, and resharpen your skills. You go back home to your business refreshed and ready to conquer the world."
Today, Noah's Ark Child Care Academy is at capacity with more than 100 students enrolled. Feedback from area public school teachers is that students who attended Noah's Ark have outstanding academic progress, as well as respectful and courteous behavior. Otis also owns a real estate investment company, boasting 24 units in its current portfolio with plans in place to purchase an additional 10 units, and his third daycare will open in the summer of 2021.
"I am motivated by creating value, building things, and achieving goals," said Otis. His self-described "steely determination" as a "lifelong learner" has been a difference maker in his entrepreneurial aspirations.
Otis, we are honored to be part of your business story.
From Start-Up to Vet100 in Four Years
---
Like many military-connected entrepreneurs, J.J.'s business was developed from his experiences in the military. "We are in aviation but we differentiate ourselves by helping government programs to become exceptional program management and technical solutions," J.J. said in a recent interview.
Two years prior to starting his business, J.J. heard about the IVMF from someone who had recently attended EBV. When J.J. launched Objective Area Solutions, he remembered IVMF and looked it up online. "IVMF is a victim of its own success – it does seem too good to be true," said J.J. "But there's no catch. Well-funded, well-managed, well-designed."
J.J. Stakem walked into Entrepreneurship Bootcamp for Veterans (EBV) in the summer of 2016 with a business plan in hand, having started his company Objective Area Solutions mere months before. At the end of the three-phase program, J.J. was awarded EBV's Most Outstanding Venture.
J.J. returned to the IVMF to attend the Veteran EDGE Conference in 2018 as an opportunity to reconnect. "Starting and running a small business is a journey," said J.J. "There are inflection points along the way. There's a constant need for engagement and that's what drew me back to the IVMF. The IVMF is increasingly providing opportunities to reconnect with education, resources, and people."
This year, Objective Area Solutions has been named to Inc. 5000's annual list of the fastest-growing businesses in the country, ranking #3 in the D.C. Metro Region. In addition, the company is ranked #36 on the Vet100 list, honoring the fastest-growing veteran-owned and -operated privately-held companies.
President and Founder of Lambert Financial
---
Hartnel Lambert, military veteran, EBV Graduate and Veteran EDGE participant.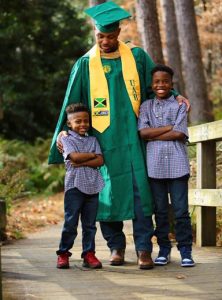 Hartnel Lambert was born in Kingston, Jamaica, and immigrated to the United States of America when he was 9 years old. Moving to the U.S. was one of the most challenging and – no doubt – the most rewarding experiences of his life. He was nervous at first, but his father who migrated to the U.S. decades before he did, helped by paving the way for him because he knew the benefits and wanted him to have a better life in general; and, more specifically, a better education. While growing up in Jamaica, Lambert always dreamt of living in the U.S. – a country of endless opportunities where anyone can be and/or achieve whatever they wanted to be/achieve by working for it. Thus, he considers himself extremely fortunate to be a U.S. citizen. Among other things, he vigorously pursued and achieved his educational aspirations because he knew how difficult it would have been to achieve in Jamaica. After completing high school, Lambert joined the United States Navy and traveled the world – gaining invaluable experience and life skills. In addition to the skills he ascertained, the Navy provided him with the opportunity to pursue and obtain his college degrees.
Tracey Richburg, Army veteran and CEO of Savannah Sauce Company, recently shared her recipe for success with CBS' Eye on Veterans and was featured on Fox News last Veterans Day. She was able to successfully shift from serving as a medical technician in the Army to becoming a CEO of a food and beverage company with the help of valuable training, resources, and mentorship she received from the EBV program.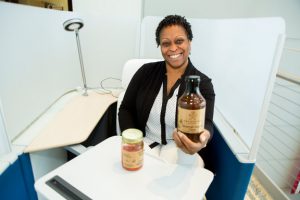 "I am still taking advantage of that information – the training, the mentorship – that I was connected with" at EBV. "It's just an awesome program."
The Savannah Sauce Company is currently found in Whole Foods across seven states in the southeast and are working on expanding into different parts of the country.
Jess Trevino and SolutionPoint+
---
My business partner Joe Smarro and I founded SolutionPoint+, a mental health justice reform consulting and training firm. Our company has trained hundreds of law enforcement officers, teaching them how to de-escalate and communicate with people suffering from mental illness.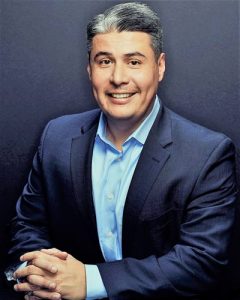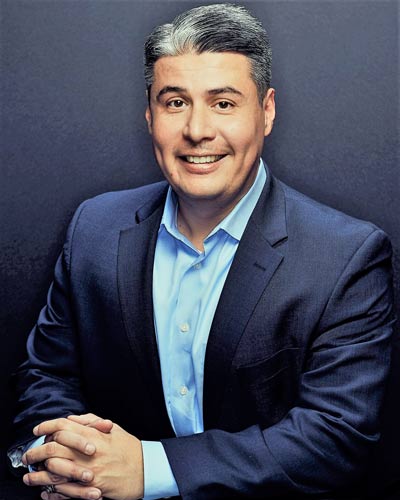 Moreover, the organization has helped many officers and veterans learn about mental wellness and resiliency. September is Suicide Prevention Month. The subject of suicide is at the heart and purpose of my life's work. Suicide awareness and prevention are among our nation's largest social issues, especially in veteran and first-responder populations.
Anything But Beer, a craft brewery in downtown Syracuse, was incorporated in June 2017. "We make grain-free, gluten-free, craft alcoholic beverages that are essentially beer alternatives," says owner Logan Bonney.
For eight years, Bonney served at Hancock Field, working as a sensor operator and mobilizing during Operation Enduring Freedom and Operation Freedom Sentinel.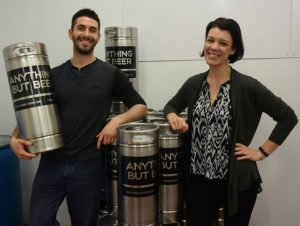 "Serving in the Guard was such a unique opportunity," says Bonney. "I was on active duty, but in Syracuse. So while I never left the base, I was controlling planes in the Middle East—actively a part of the nation's fight supporting troops on the ground."
Read the full story on Logan Bonney. You can also read about how Anything But Beer has been helping during the Covid-19 global pandemic.